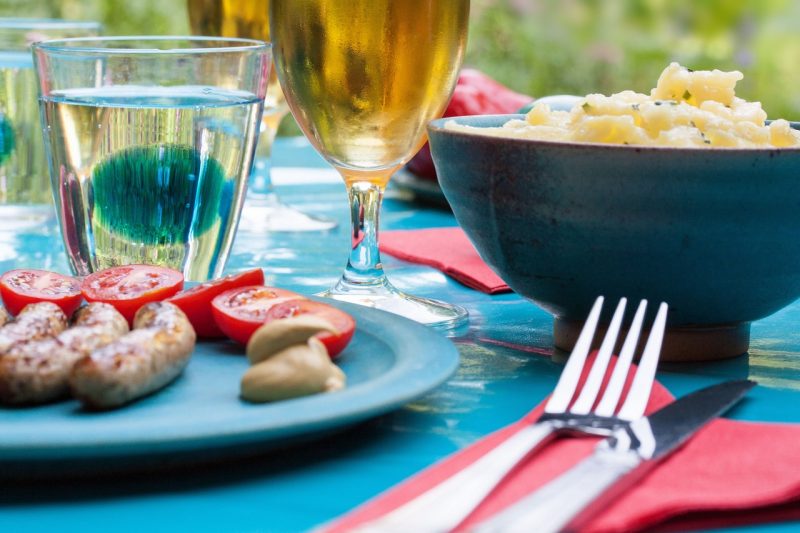 Now that summer is upon us, it's time to invite over the family and friends, gather in the backyard and enjoy the warm weather.  There's nothing like a BBQ party to make it feel like it's summer. In this article we'll go over some of the more high end changes you can make to your backyard to ensure the perfect summer BBQ gatherings.
Outdoor Kitchen
In this day and age, a simple charcoal grill doesn't really shout out "BBQ Party!"  It's something you'd more likely see at the beach or campground rather than at the perfect summer BBQ gathering.  Today's outdoor kitchens have become pieces of art. Complete with an outdoor sink, refrigerator, wood burning oven and an extra large, multi-burner gas grills with smoker, infrared rotisserie burners, interior hood lights, and LED control panels, this is the kind of outdoor kitchen that will guarantee top level results.
Permanent Backyard Structure
At the perfect summer BBQ gathering, no longer is it acceptable to sit at a picnic table or with your plate on your lap.  Building a deck, gazebo or pavilion that can fit a beautiful outdoor dining table along with comfortable chairs will not only protect you from the elements, it will allow you to dine in style.  Invest in a luxury backyard structure to fulfill all your summer entertainment needs.
Water Features
It's not quite summer if there isn't some sort of access to water.  Ideally you'd be able to install a swimming pool or hot tub for that true summer feeling.  But even adding other water features such as a fountain, pond or waterfall will add the sound of water to the summer ambience.  These types of water features aren't only an asset during of your BBQ gathering, the sound of gurgling water will help lull you to sleep at night.
Masonry Work
The addition of stone pathways, a luxury fire pit or a brick pizza oven will not only make your backyard more attractive, you can utilize materials that will complement your house as well.  Custom stonework can create a clear route from your backdoor to the activity area of your backyard while cutting down on the amount of dirt and grass tracked back into your house. A fire pit or brick oven can become the focal point of what might otherwise be just another ordinary backyard BBQ gathering.