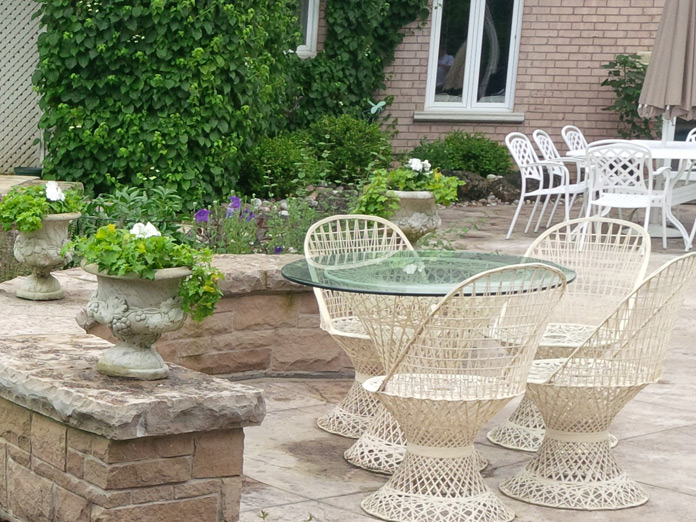 A backyard is an excellent facility to have at your disposal. The extra space around your house can be used to accomplish various things. However, keeping and maintaining grass can be taxing in terms of both time and effort, and frankly, rolling verdant green, while initially pleasant, can become boring and hard to use as a natural extension of the house and a place to entertain your family and guests.
A patio, on the other hand, solves many of these problems. First and foremost, stone adds value to a house. People who have invested in a patio or outdoor kitchen see on average a 72% R.O.I. (Return On Investment) if and when it comes time to sell the house. Beyond that, M&S Architectural keeps a skilled set of people who specialize in woodworking and stone and who can add value to other aspects of the house, including doors that open onto the patio, the overall landscaping and shape of your yard. This skill is essential in creating a smooth transition from house to yard and back again, so that the comfort of your home extends beyond just the interior. And, if you are not looking to sell your house, a patio is an excellent addition in that, on average, they only need maintenance and service once every 25 years.
M&S Architectural Wants to Build the Best Possible Patio for You
Building a patio is not simply driving up, throwing some precast pavers, flagstone or rocks on the ground and driving off. It is a multifaceted endeavour, and M&S Architectural brings years of expertise and professional experience to the table. We have remained a successful business based on the virtue of our ability to service the GTA, Toronto, King City, Caledon, Aurora and Newmarket areas with the best possible workmanship available. This experience allows quality work to be done quickly and efficiently with the care and skill necessary to make a lasting addition to your home.
This experience and skill allows for an extreme versatility to suit the customer's needs exactly. Whether you require a relatively simple design or one that is more complex, we can tailor our services to meet those requirements. We go through a meticulous planning process and won't start work until you are completely happy with the design plan.
If you would like assistance with the design and installation of an aesthetically pleasing patio area at your property, don't hesitate to contact the team at M&S Architectural.