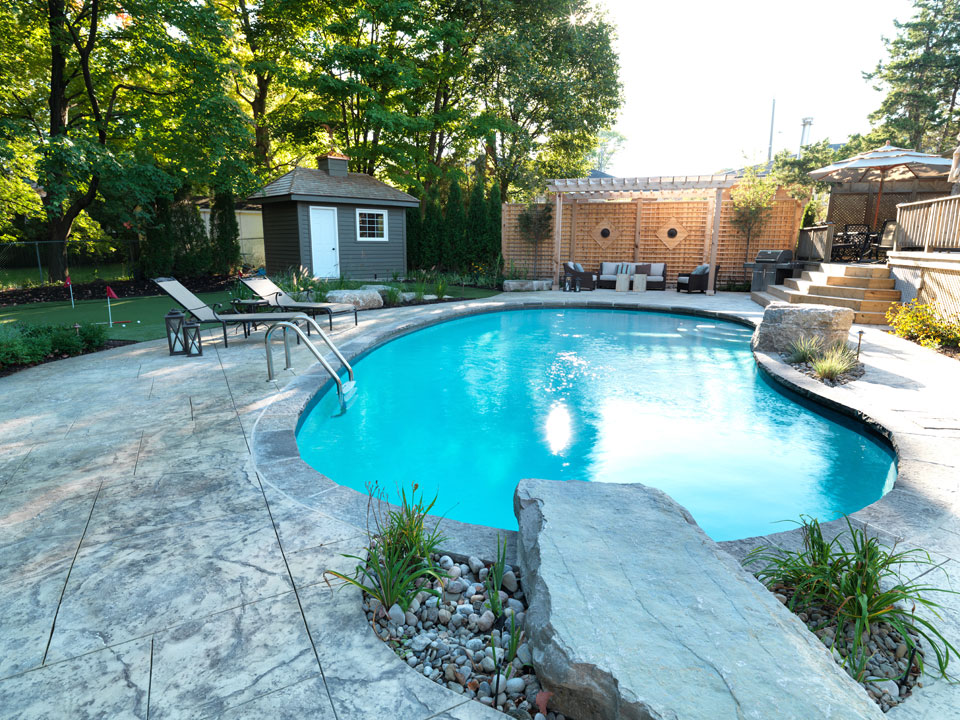 Put simply, winter in Toronto is no fun. So once we've dug ourselves out from the snowdrift and summer finally rolls around, we want to take advantage of it. There's no better way to do that than with an in-ground swimming pool. But a pool is more than a refuge from the summer swelter. It's a private space for personal reflection, or a place to get the extended family together for a weekend of fun.
Here at M&S Architectural Ltd., we know exactly how good it feels to spend a hot summer night or Saturday afternoon swimming and lounging by the pool, and that's why we specialize in pool design. An expertly-designed and constructed home swimming pool is both functional and visually appealing, providing a place for play while complementing the home's existing landscaping design.
Our swimming pools are constructed in collaboration with the award-winning Betz Pools, one of Canada's most trusted pool construction companies. We create both in-ground swimming pools and home spas, so whether you're looking for a fun-filled day of pool basketball or a quiet evening in the hot tub, we have a plan for you.
All swimming pools are built for an optimal combination of structural integrity, functionality and aesthetic appeal. Our concrete pools are literally built to last decades, so an investment in pool design at M&S never stops paying off. Our more affordable vinyl pools are also built for the long-term. In addition, the design process is completely customizable; our expert team will work closely with you to plan your pool landscape.
We build pools in almost all shapes and sizes, ranging from traditional geometric shapes to modern free-form styles. We take care of the entire process, and our pool design includes a range of options: different pool layouts and schemes, dark or light lining, cabanas, arbors, custom fencing, plants, retaining walls and premium lighting. It's your personal kingdom during the summer months, so it should be built exactly to your liking!
Located in Bradford, Ontario, M&S Architectural Ltd. has earned its reputation around the Toronto area as one of Canada's best landscaping design companies. Our business model is simple: only the best. That means top-notch building materials, impeccable architects, expert construction crews and a commitment to customer service. If that sounds like a winning combination for your next home building project, give us a call today at 905-778-0015!
M&S Architectural works closely with award winning Canadian based Betz Pools to create a backyard spa or pool landscape that brings families and friends together in your backyard.Working with you to design all the elements of your pool landscape – design, pool layouts, water features, cabanas, arbors, fencing, planting and landscape lighting and complete installation of your designed pool oasis.