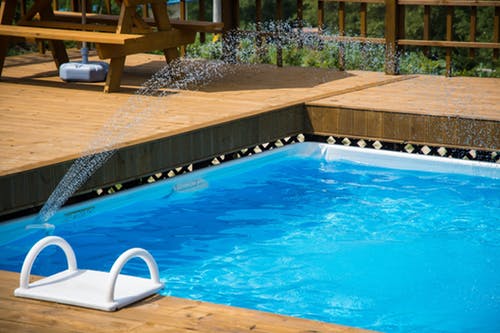 For most people, the installation of a swimming pool is an exciting time.  Looking forward to spending time in and around the pool with family and friends on warm summer days is hard to beat.  But one of the bonuses that comes with the addition of a swimming pool is a corresponding increase in property value. If done properly a swimming pool could potentially add several thousand dollars to the asking price of your house.  To that end, we've come up with an article featuring pool landscaping tips that increase your property value. Read on to learn more.
Make Sure You Have Enough Space
Installing a full sized swimming pool in a tiny backyard will allow you to practice your backstroke, but it may not add much value to your property.  To get the most value out of your newly installed pool, make sure it's an appropriate size for the land area you're working with. Potential homebuyers are likely to want some greenery in their backyard and won't want every spare inch taken up by the pool.  Select a pool size that leaves some space for gardening and other activities.
Make Sure Your Pool Matches Its Surroundings
Having your pool look like it naturally belongs in its place is something you should strive for when installing it.  This includes taking note of the main features of the house itself, considering the materials the pool is made of and adding landscaping features that complement rather than detract from the entire backyard.  Make sure your pool fits in well with the rest of the property and doesn't completely overwhelm it.
Make Sure It's Appropriate For Your Neighbourhood
Houses with swimming pools are always an easier sell if you live in a location with a warmer climate and relatively long summer.  It's not to say that you wouldn't be able to sell a home with a pool in the far north, but you'll have a much easier time of selling with a longer swimming pool season.  Pools also add more value to the property in higher end neighbourhoods. If most of your neighbours have swimming pools, it'll be much easier to convince the potential buyer that a pool is a necessity rather than a luxury.