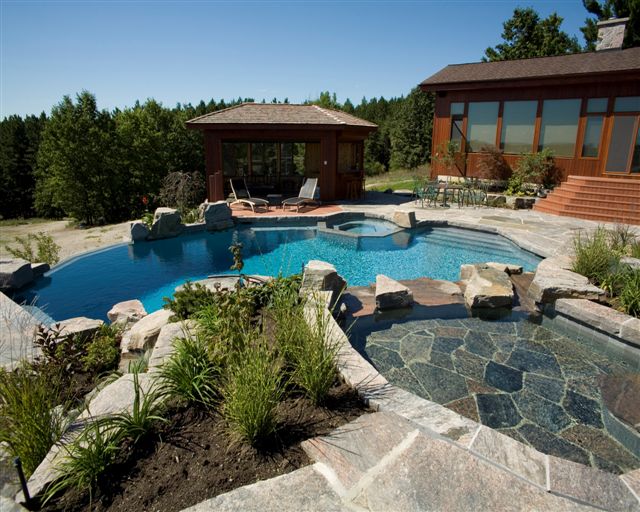 When it comes to architectural movements, much of it can be compared to differing styles of popular music or art throughout the ages.  Classical music was the pop music of its day, but over time it was replaced by jazz, rock 'n' roll and rap. The Renaissance produced artwork that was much more realistic than anything that came before it, but it eventually gave way to more esoteric representations such as Cubism, Abstract art and Pop art.  Architectural movements have a similar chronology and modern architecture is only one of the movements. So what is modern architectural landscaping design?  
Modern Architecture
To get to modern architectural landscaping design, we must first tackle modern architecture.  The Modern Architecture movement arose out of the Bauhaus, a German based art and design school in the early 1900s.  As a reaction to excessive ornamentation and embellishment, the modernist movement focused on simple materials such as steel and glass, clean and sleek design and the notion of form following function.  Great purveyors of modern architecture include Le Corbusier, Mies Van Der Rohe and Frank Lloyd Wright.
Modern Architectural Landscaping
Similar to architectural movements, landscaping styles are delineated by shapes and arrangements, the type of materials that are used and the way in which these materials are incorporated into the landscape.
Similar to modern architecture, modern architectural landscaping shies away from excessive embellishment and decoration while focusing on simple, sleek and clean lines.  Like modern architecture, modern architectural landscaping makes use of materials such as concrete, metal and glass, but with extra emphasis on natural materials such as wood and stone.   Monochromaticism is revered when it comes to plants, grasses and the complementary hardscaping materials and structures.
With modern architectural landscaping you'll often see simple, neatly arranged plants without too many contrasting colours.  These will be accented with austere hardscaping that's primarily functional in nature. You won't find jungle-like assemblages of many different plants with wild colour contrasts.    You'll find plants and hardscaping arranged in simple geometric shapes used to create a minimalistic look that's void of ostentatiousness and garishness. Modern gardens are designed to be a companion to the home rather than outshine it or deflect from its presence.