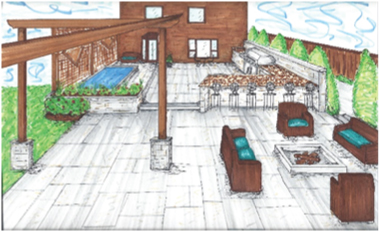 When dealing with new customers interested in landscaping their property, we quite often get the question of when to start planning a landscaping design build project.  While it's possible to come up with your basic ideas for landscaping project whenever the inspiration arises, if you're looking to enjoy the fruits of your labour during the summer you'll want to get in touch with a landscaping design company in the winter or very early spring.  There are two main reasons for this: The first is that once late spring and summer arrives, most landscaping companies will be hard at work on existing projects. The second reason is if you start your planning in the summer or fall, you probably won't be able to implement your design ideas until the following spring.  This article will go over some things you should keep in mind when planning a landscaping design build project.
Hardscape Before Landscape
By installing your hardscape ideas first, you allow your landscaping projects to take root as soon as they're implemented.  If you start with landscaping, you'll likely end up disturbing the growing process of your plants when you get down to the heavy duty work of hardscaping.  Doing things like pouring concrete, building sheds or laying down patio stones is going to be hard on the foliage and will likely stunt its growth. Get your hardscaping fully installed before worrying about the greenery.
Offer Your Designer Visuals
When trying to explain your idea to a landscaping designer, the more visuals you can present, the easier their job will be.  Ultimately your finished project will be about visual appeal, so giving your designer a literal vision of what you're hoping to achieve will help them interpret your ideas.  Tear pages out of your favourite gardening magazines, download photos of backyards that give you inspiration and bring in examples of textures and colours you're hoping to incorporate.  The more examples you can offer, the closer to your vision your designer can get.
Understand The Limitations Of Your Property
You need to understand the limitations not only of your property, but also the local climate as well.  As we all know, winters in Vancouver are much different than winters in the GTA. You're going to need to work with plants that can handle the local climate.  At the same time, depending on the size of the space you have to work with, you need to keep your goals in line with the area.