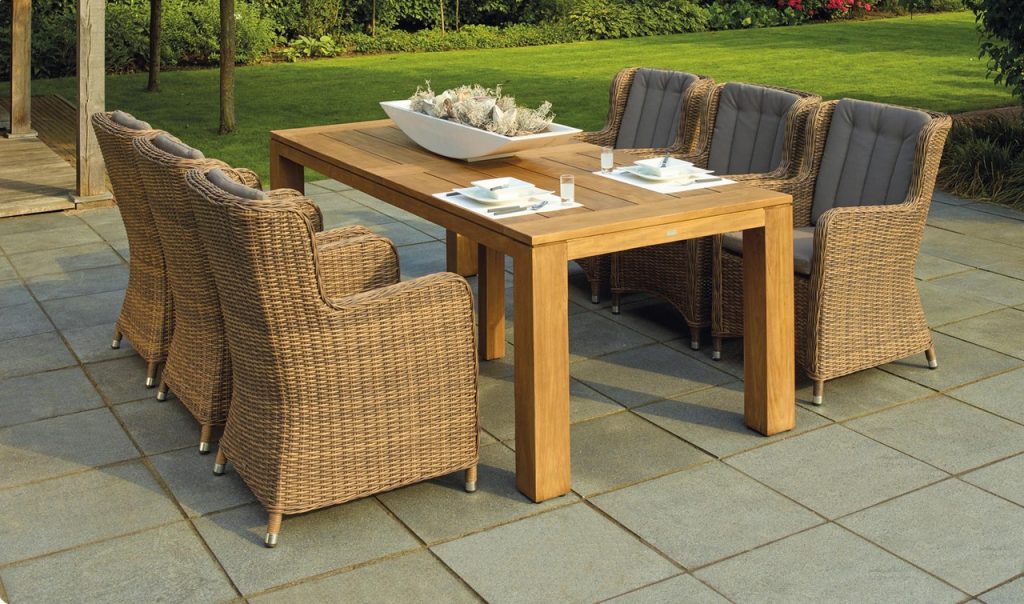 With the summer season in effect, our minds turn towards being outside.  Enjoying the summer in your backyard is one of the best ways to enjoy the season.  Outdoor furniture plays an important role in summertime backyard use, so understanding the various manufacturing materials will allow you to make an educated choice.
Teak
Teak is a tropical hardwood that is traditionally valued for its water resistance because of its high oil content.  As such it's often used for outdoor furniture.   Teak takes on a grey, weathered appearance when exposed to sunshine, which should be taken into account when deciding on appropriate materials.
Rattan/Wicker
Rattan can be composed of a wide range of plant or man-made materials and is weaved into wicker which can be used to construct furniture with a unique design.  Rattan can be UV stabilized to withstand extensive sun.  It can also be made water and mould proof.  Most types of rattan are also environmentally friendly and easily recycled whereas types made of PVC may be somewhat harder to dispose of properly.
Metal
Different metals can be used to suit different weight requirements such as heavy to prevent movement in windy weather or light to allow ease of movement and storage.  Many of today's metals have anti-rusting properties or can be made rustproof.  Metal furniture comes in many different styles and is typically long lasting.
Plastic
Plastic is a lightweight option that can be fabricated into a wide variety of forms and styles.  Typically plastic isn't a high-end material, but it is cheap, easily replaceable and easy to store.  Many of the products currently on the market are made from recycled plastic which can alleviate any sense of adding to environmental problems.
The materials you choose for your outdoor furniture will depend on a wide variety of factors unique to your situation.  The type of weather conditions your area experiences, the amount of money you want to spend, the style of furniture that fits with your backyard and the ease of movement and storage will all play roles in your ultimate choice.  Choose the materials that best suit your needs.