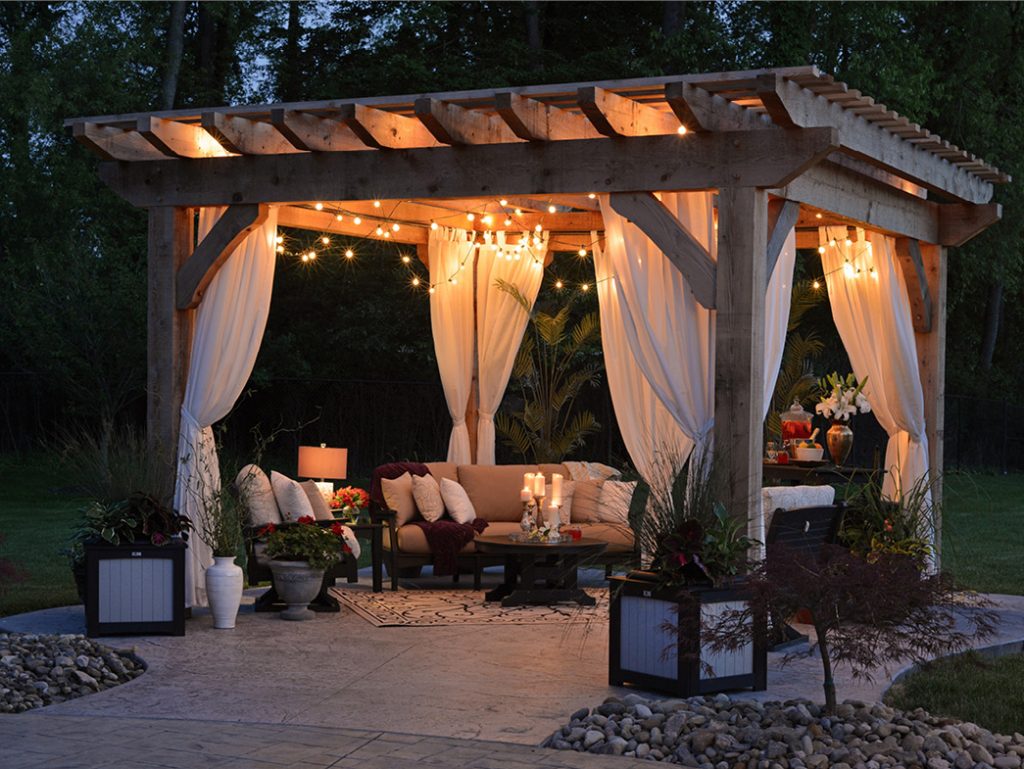 Well planned outdoor spaces provide a feel of luxuriousness, but they don't necessarily need to be expensive.  It's possible to spice up your landscaping without spending a lot of money.  To help you create an upscale outdoor feeling on the cheap, we've put together a list of five tricks to make your landscaping look expensive.

String Lighting
String lighting is not only inexpensive, it's easy to install and provides a huge bang for the buck. It's one of the cheapest outdoor lighting systems available and doesn't require the services of an electrician for fitting.  Having lights overhead opens up your space by extending it vertically.  They're functional while also adding elegance.
Water Features
Adding a water feature to your landscape doesn't necessarily involve a lot of money or professional installation.  A bubbling water feature can be small enough to fit on a patio table if need be.  Smaller water features can be up and running within an hour and provide not only visual stimulation, but aural as well.
Seating
You shouldn't think of seating as simply a functional accessory.  The type of seating you install can make a major difference in the overall ambience of your landscape.  Whether you choose a matching set or like to mix it up with unmatched pieces, put some thought into both the seating and the surrounding accompaniments like side tables.  They'll have an oversized influence on the overall feel of the space.
Reclaimed Materials
Reclaimed building materials can bring down your costs while providing an expensive look.  Reclaimed wood and brick are some of the most popular reusable materials, but you can also incorporate old doors, furniture or natural materials such as driftwood.  If you want to add a bit of character without spending a lot of money, consider salvaging some cast off materials.
Outdoor Rugs
Because you don't normally see carpeting outdoors, a durable outdoor rug can really create a statement.  Not only can it look good, but it'll provide some underfoot comfort as well.  Rugs can unify a seating area while making it look more comfy.  They can also provide protection to the surface underneath or hide damaged or unsightly flooring.