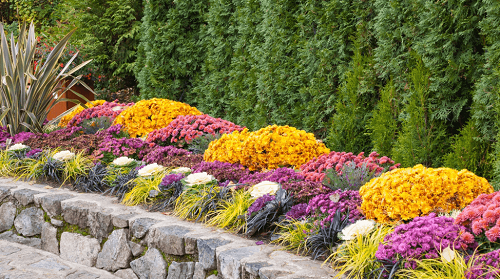 Unfortunately, it always seems that the month of August arrives faster than all the rest.  Summer is half over and the back-to-school specials have returned in full force.  When it comes to landscaping, however, most of the heavy work has already been done.  Now is the time for maintenance, upkeep and enjoying the spoils of your previous efforts.  To help break down the month for you, we've put together a list of four August landscaping tips.
August Irrigation Tips
August is typically the hottest and driest month of the year, so ensuring your plants are well-irrigated is essential. Make sure your vegetable patch doesn't dry out – especially those that are producing fruits. Any plants in containers will likely need more water than they ever have this year. If it's hot, watch your lawn edgings as proximity to hot asphalt or concrete can dry them out faster than the rest of the surface. And as the summer comes to a close, shrubs will now require deep waterings weekly.
August Annuals Tips
Many annuals may have run their course by now.  However, you can keep deadheading them to try and stretch out their blooming season.  August is also a good time to invest in some new annuals to get a final burst of colour before the colder weather arrives.  Just add a bit of new soil to some new, late summer blooming annuals to replace the ones that are dying off.  
August Perennials Tips
August is the ideal month for dividing perennials. Most perennials need to be divided every three to five years. This provides them with more space to grow, rejuvenated root systems and more blooms. It also tidies up the space and provides you and your friends with more free plants! Dig the plants out without damaging the root ball. Divide the root ball by teasing out small sections and replanting them as soon as possible.
August Pruning Tips
August is when you should be pruning trees and ground cover.  They've completed most of their growth for the year by now, so pruning won't hurt them.  Groundcover is generally very hardy and can be sheared to about an inch tall.  As for pruning trees, now is the time to trim them to your preferred shape and get rid of oversized or dangerous branches.