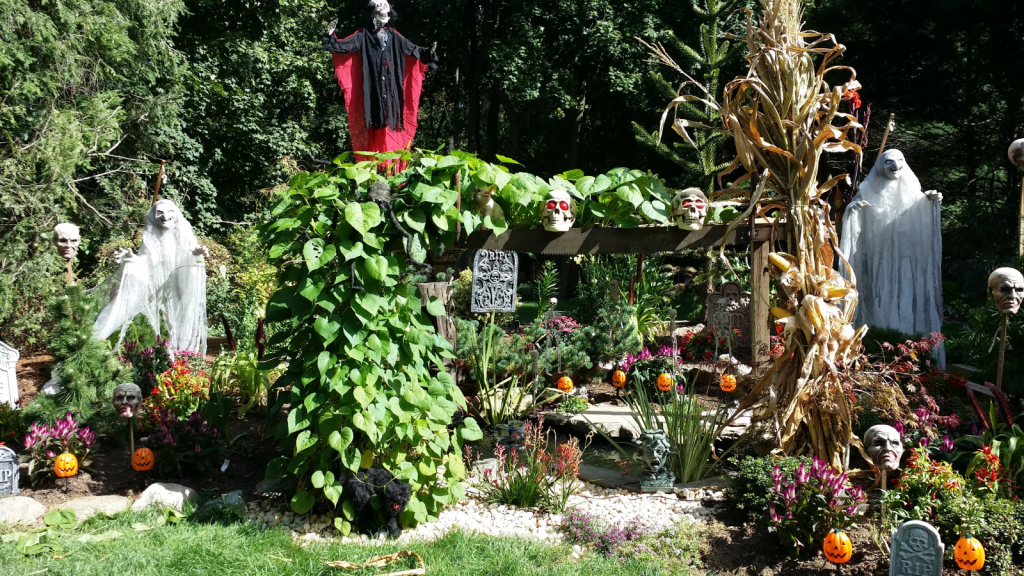 Now that fall has arrived and most of your summertime landscaping duties are done, you may find yourself wondering what to do with your time.  If you still feel like puttering around the yard, Halloween provides you with an excellent opportunity to be creative with some work around your yard.  In this post, we'll go over some top Halloween landscaping ideas.
Tidy Up The Fire Pit
Fall is an opportune time to make use of your fire pit.  The evenings are cool, but not yet so cold that a blazing fire won't take off the chill.  Get your fire pit in order and make it ready to burn off any tree trimmings and other yard waste.  If you really want to get in the Halloween mood, look into the latest spooky trend of skull-shaped fire logs.
Decorate Your Front Porch
Trick-or-treaters will invariably end up on your front porch, so take advantage of this decorative blank slate.  A jack o'lantern or two are almost obligatory, but also consider hanging up an autumn-inspired wreath which could be spooky or simply fall-like.  Halloween-themed string lights, skeletons, broomsticks and witch silhouettes can also be used to great effect.  A quick trip to the dollar store can provide you with many top Halloween landscaping ideas and have your front porch fully decorated without a lot of investment.
Make Use Of Your Trees
If you have trees in your front yard, they can make an excellent framework for hanging Halloween-inspired decorations. Witches, skeletons, jack o' lanterns, ghosts and spiders will all look right at home in the branches of your front yard's trees. Let your imagination run wild to give your trees a spooky, Halloween look.
Set Up A Scarecrow
Scarecrows not only signify autumn, but they also provide a spook factor. Make a simple scarecrow by stuffing an old pair of jeans and a long-sleeved shirt with fallen leaves. You can fashion a head by stuffing an old pillowcase and drawing a face on it. Top it off with a hat and you've got yourself a scarecrow! Lean it up next to your door or prop it up on your lawn with some sticks.